// From Sault Ste. Marie, Ontario, Patrick Dal Cin is an accomplished film audio professional, music producer and instrumentalist  \\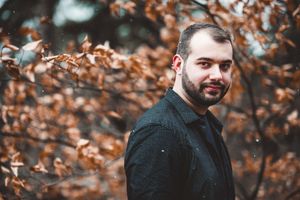 From an early age, Pat has been surrounded by music through his family of music teachers.  Initially a violinist and then a drummer, he found his prime tool of musical expression through the bass guitar.  After many years of performing in his hometown, he pursued a degree in Popular Music and Film at Western University.  In his music, he blends a love of cinematic soundscapes with indie rock hooks, nodding influences to Porcupine Tree, Rush, Death Cab For Cutie, Radiohead and Minus the Bear.
Pat has found success as a bassist in the Canadian music industry, performing with award-winning and label-signed acts across the country.  He has performed at prominent events such as Festival D'Été de Québec, Trackside, and Canadian Music Week.  He has shared the stage with notable acts such as The Arkells, Mother Mother, Hollerado, and The Born Ruffians.  
In addition to his live successes, he has recorded on numerous artists' recordings that have gone on to secure awards and grant funding.  He has also developed a reputation as a savvy producer and mix engineer, figuring out unique ways to bring clients' ideas to life without compromising their vision.  One of his first EP recordings breached the Canadian iTunes pop charts into a top 20 position following POESY's win on CTV's The Launch.         
Photo by Chelsea Brimstin Photography